Neuromuscular Therapy Ballaghaderreen
Enhanced Motion is a neuromuscular therapy clinic based in Ballaghaderreen, Co. Roscommon.
Elizabeth Cummins
In July 2020, lead clinician and business owner, Elizabeth Cummins opened the doors of Enhanced Motion to the public with the aim of helping improve lives and providing the best care for those in pain.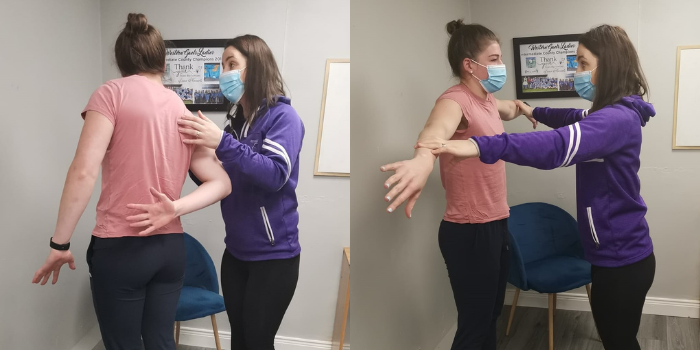 Before opening her clinic, Elizabeth spent over 10 years in the health and fitness industry at which point she decided to return to study and qualify in Neuromuscular Therapy. Since then she has shown no sign of losing that drive, continuing to learn cutting-edge techniques so she can improve the lives of every single patient.
Elizabeth is a qualified Neuromuscular Therapist from the National Training Centre and is a member of the ANMT (Association of Neuromuscular & Massage Therapy). She is qualified in Trigger Point Therapy, Orthopedic Massage, Advanced Dry Needling, Dynamic Cupping, Functional Screening.
Elizabeth's sole passion is to help people who are in chronic pain. It is a drive to help those that have lost the ability to do things they love. Whether it is working, playing with grandchildren, gardening, returning to their favourite sport, or being able to go out and swing the hips on the golf course or dancefloor.
As a mother of three, Elizabeth understands just how important it is to be able to do the school run, work, and juggle home life without the endless pain and discomfort. That is why she is so passionate about developing a plan that works for your lifestyle!
She has experience dealing with a complex range of sporting injuries and has worked closely with a number of local sporting clubs and people, including European Amateur Boxing Champion and Tokyo 2021 athlete Aoife O'Rourke.
Elizabeth is always searching and looking to learn new skills so she can continue to change lives and help each person that walks through the clinic doors.
"My main aim when opening the clinic was to provide a service that can help people move out of pain and enjoy the things they love to do and need to do!"
As well as helping change their lives for the better, Elizabeth enjoys spending her free time playing football with her local club Western Gaels.
Conor Quinn
Conor graduated as a Neuromuscular Therapist with NTC National Training Centre in 2012 and is
a fully accredited member of The Association of Neuromuscular and Massage Therapists (ANMT). 
He specialises in the diagnosing, treatment, and rehabilitation of musculoskeletal injuries, whether they are acute or chronic.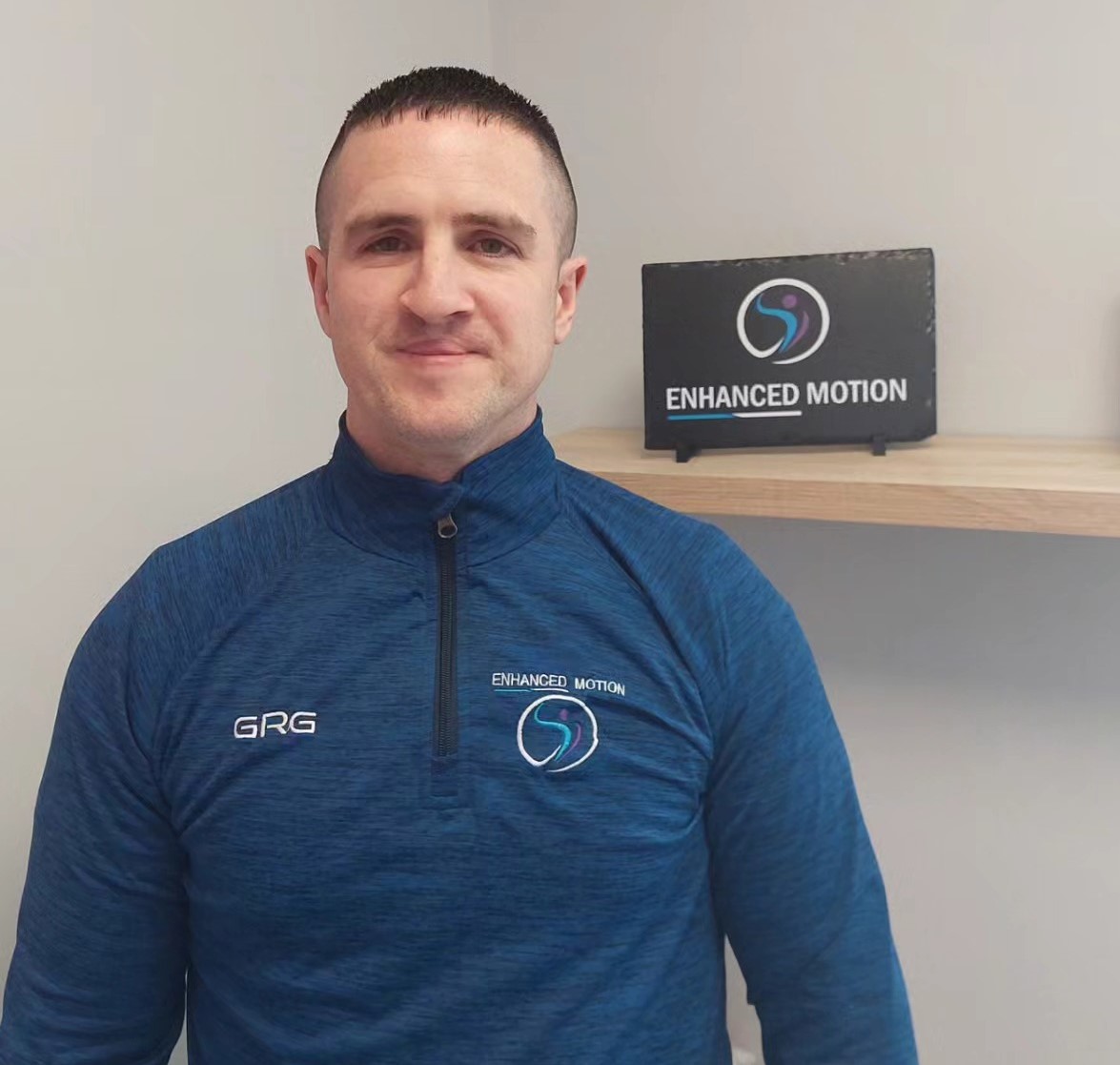 Since 2019, Conor became Certified Functional Strength Coach Level One and Level Two Travelling to Boston America and Spain to finish this Qualification.
Conor recently worked for five months with the Galway Senior Football Mens Team as their Rehabilitation Coach. He worked to rehabilitate some key players back to full fitness and onto the pitch again.
His role with the Galway senior football team involved postural assessment, sports therapy practices, programming, testing, retesting, return to training protocols and then return to performance protocols.
Conor has a big interest in GAA and most sports.
He worked closely with the Corofin Senior Mens team, who won three in a row club football All Irelands. He guided the team through gym sessions when he worked with the Velocity Fitness in Tuam Co. Galway.
Conor core beliefs use a combination of manual therapy and exercise rehabilitation to restore any athlete not only back to full function but to a higher level before the injury occurred.
His main clinical interests involve shoulder and hip rehabilitation along with treating chronic neck tightness that may bring range of motion issues.
What Is A Neuromuscular Therapy Clinic?
So what can you expect from neuromuscular therapy?
Maybe you've heard of neuromuscular therapy but don't know much or maybe you've never heard of it. It's time to change that.
Neuromuscular therapy is simple. We use fast-acting hands-on treatment to target your pain. Unlike physiotherapy, we specialise in working with myofascial trigger points. These are small areas of the body that could be causing your pain.
Using neuromuscular therapy we are able to treat the type of everyday pain and injury many people experience at some stage of their lives such as backache, restricted range of movement, chronic pain, and muscular discomfort.
Our services are designed to make each visiting patient feel the difference. Because it's not just about your pain. It's about you.
What We Treat
Unlike most clinical businesses we offer a wide range of services to help you beat the pain that is putting a hold on your life.
We use a mixture of techniques from Trigger Point Therapy, Dry Needling, to Cupping Working along the MTJ (musculotendinous junction), and rehabilitation exercises to treat, but not limited to…
Knee Pain – Osteoarthritis
What To Expect From Your Appointment
Each appointment we listen to YOUR story. We want to get the whole picture and learn just what bought you to us. We'll establish what you want to be doing and how we can get your there. You come first.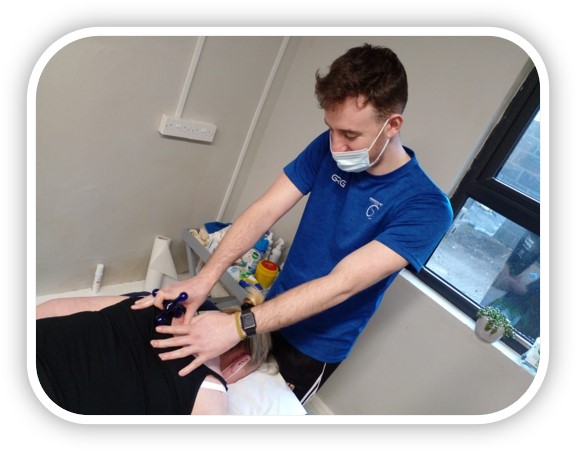 Once we have taken the time to talk, we'll go through a thorough, full-body assessment. We'll identify the cause of the injury/pain, deal with the symptoms and put a plan in place that helps you achieve YOUR GOALS.
Book Your Appointment Today
Whether you've suffered years of pain, you have a new injury, or if just want to drop into the office for a tea and coffee, we want to see you.
Unlike other companies, we have one single goal. We want to help you take control. So if you're in pain. If you're struggling to pick up your kids or just want to be able to run again, don't wait.
Take control today. Click the banner below, book your appointment and let us help.